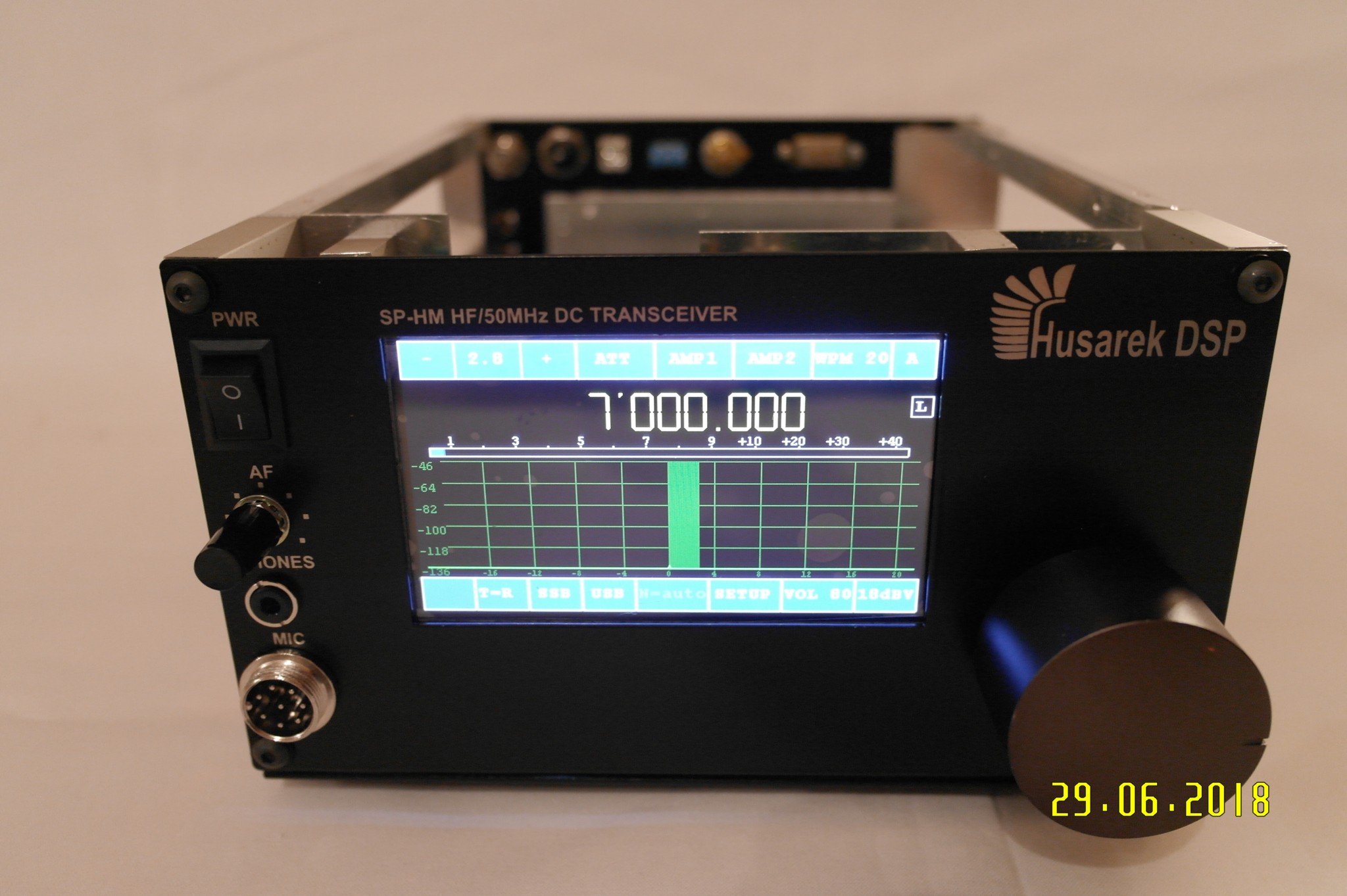 Home Made HF/50MHz DC Transciever
Husarek DSP is HF + 6m all modes home made direct conversion transceiver, designed by Janusz SP5BMP (hardware) and Tomasz Korniluk (software) in 2016.
It needs to be highlighted that, many other Polish radioamators and constructors from the sp-hm.pl group have taken and continue to take an active part in this project, contributing their own small share to this project.
The heart of this transceiver is Discovery STM32F746G module. This module has a 4.3" LCD touch screen and an excellent 24-bit codec along with a power amplifier. It controls the whole functions of this transciever via the I2C bus and performs DSP filtering. The following filters can be attached: 2.8kHz, 2.5 kHz, 2.2 kHz, 1.9 kHz, 1 kHz, 500 Hz, 200 Hz and 100 Hz, and three AGC time constants for each band and emission. On the transmitting side, you can select the compression ratio in the range: 1, 2, 4 or 8. A telegraph key is also built-in this transceiver, as is the possibility of connecting a hand-held key. A characteristic feature of the device is that it has only one knob that controls the encoder. Other settings can be changed using the touch display. Output RF power is 15 to 18 watts on all HF + 6m & even 4m bands. Already today, this transciever is just as good as many other factory transcivers and some of them exceed their parameters and functionality. To find out about it, you have to build it yourself.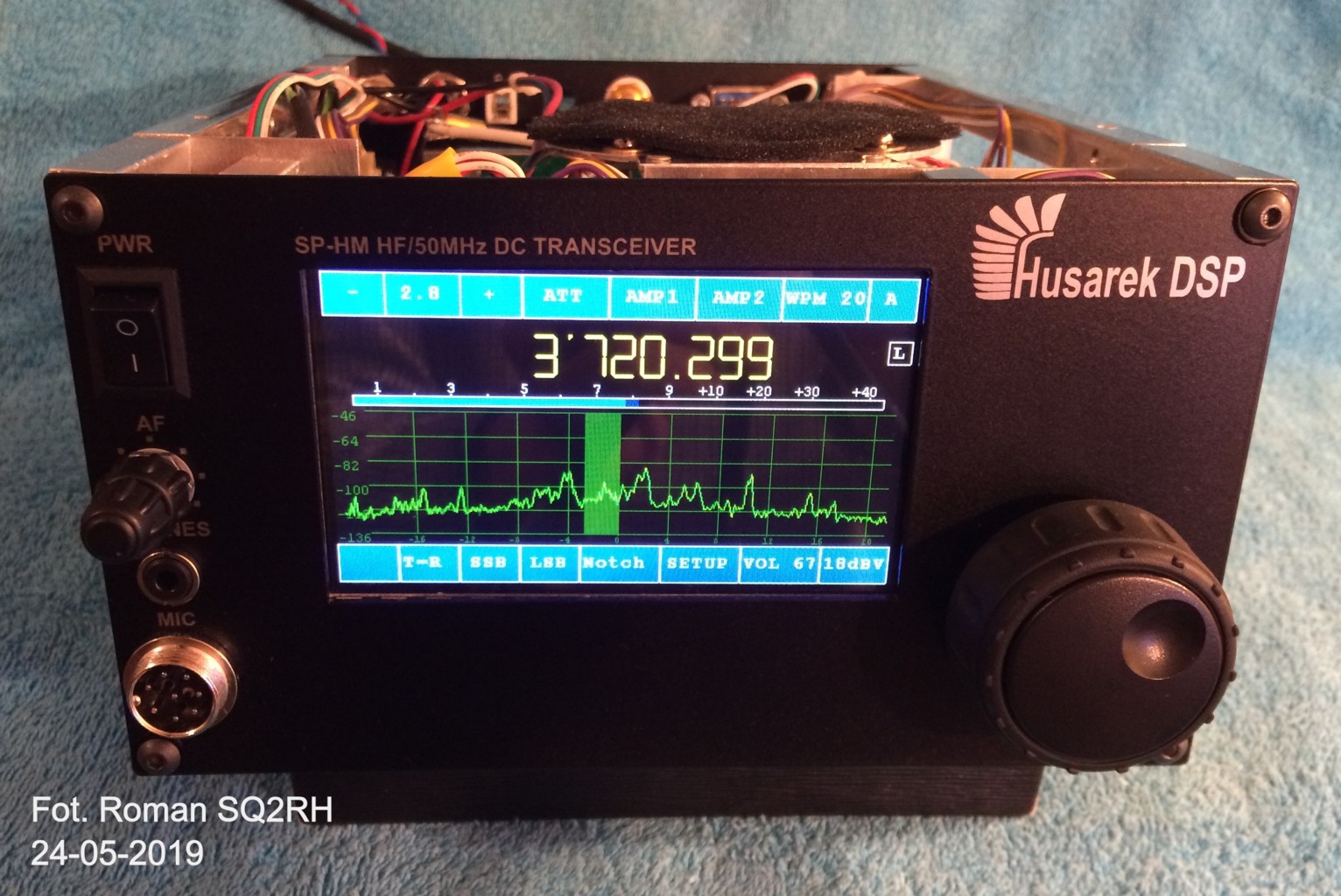 Home Made HF/50MHz DC Transciever
Due to the lack of time, in April 2019 I returned to the construction of the transciver Husarek DSP. The construction status as at May 24, 2011 is as follows: The receiver is already working and it works great, a small sample of the video/audio signal is here (20m/CW, MOV file 133 MB). The final HF amplifier also works, here its parameters: (MHz|PWR) 2=18 | 3,7=18 | 7,1=18 | 10,1=17 | 14,2=15 | 18,1=15 | 21,2=15 | 25=14,5 | 28,5=14,5 | 52=15 | 72=14 | 145=0,8 The level of the input signal on PA -8dBm. About 90% of the work has been completed.


Husarek DSP - RX Test during WPX CW Contest
WPX Test 25052019 - 10m/CW Strong Signal 47MB
WPX Test 25052019 - 10m/CW Weak Signal 55MB
WPX Test 25052019 - 15m/CW StrongSignal 58MB
WPX Test 25052019 - 15m/CW Weak Signal 66MB
WPX Test 25052019 - 20m/CW StrongSignal 73MB
WPX Test 25052019 - 20m/CW WeakSignal 73MB
WPX Test 25052019 - 40m/CW StrongSignal 73MB
WPX Test 25052019 - 40m/CW WeakSignal 73MB
WPX Test 25052019 - 80m/CW StrongSignal 1270MB
WPX Test 25052019 - 80m/CW WeakSignal 65MB
WPX Test 25052019 - 160m/CW StrongSignal 70MB
WPX Test 25052019 - 160m/CW WeakSignal 74MB